Take control of your products.
A product that a customer wants that you don't have is costing you a sale and possibly a customer relationship. On the other side, items just sitting on your shelves are providing no return on investment and are ultimately costing you money. Avoid these problems, with Smartwerks inventory.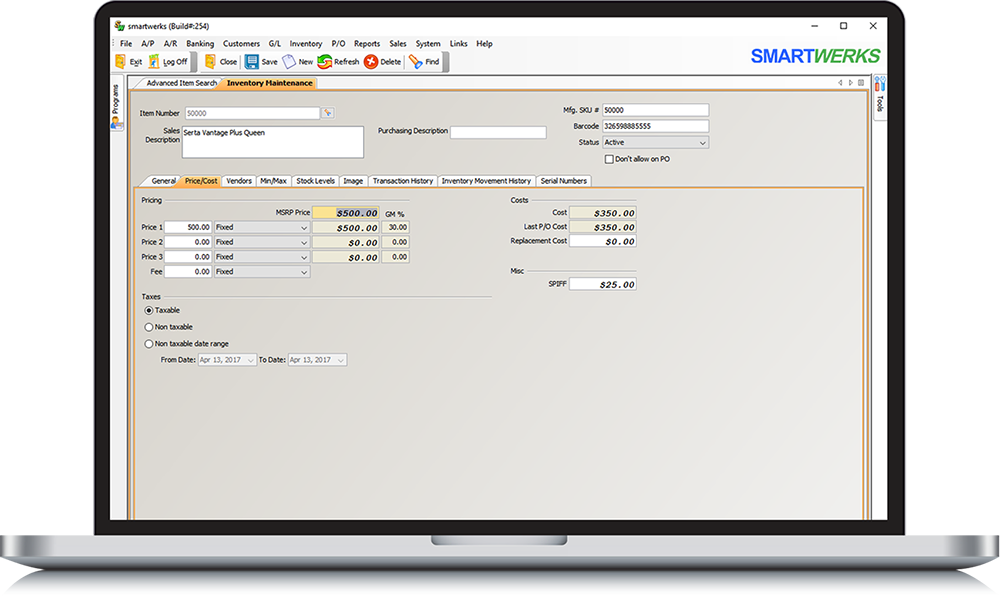 Know what's selling.
With our powerful analytics, quickly see the items that your customers are buying the most. Use this information to set the minimum and maximum stock levels for your items based on today's demand, not yesterday's or last week's.
And what's not.
Dead stock. The stuff just sitting on your shelves costing you money. With Smartwerks inventory, you'll be able to identify these items easily and make informed decisions about products that it's time to get rid of.
At all of your stores.
At any time, get a big picture view of how products are performing at all of your locations. See how much you're making from sales and how much is being spent on inventory. And most importantly, know the profit you're earning. Also, check the quantities of stock you have available to sell, along with the cost of that stock.
Then dig deeper.
Are top sellers selling because they are popular, or because they are priced too low? Are dead stock items not selling because they are unpopular, or because they are priced too high? To get a better feel, Smartwerks shows you the actual return you are getting from each item (Gross Margin). With this information, you can make the best decisions about your products.
Create a smarter PO.
Knowing the above information will help you make better buying decisions. But the 'What to Buy' report makes it even simpler by actually recommending the items that you should order right now. With one click, it automatically creates the purchase order– a smarter purchase order–for you.
Put an item on hold.
Maybe your customers pre-order items from your website or Facebook page. Or maybe they put a deposit down toward a product and will pay the rest later. To offer these features, your system must be able to commit inventory. Unlike many of it's competitors, Smartwerks does–and does it beautifully.
Count inventory.
Smartwerks makes the process of taking inventory as painless as possible. Count from any device, with or without a barcode scanner. And track serial numbers. Discrepancy reports help you identify any shrinkage that occurred.
Plenty of pricing options.
For each item, you can set up three pricing levels that are automatically maintained by the system. Each price can be calculated from a desired gross margin, a percentage of MSRP, or a markup from cost.
In this video, discover how Smartwerks helps you:
Process sales faster and more accurately.

Bring in new customers and keep the ones you have.

Manage your employees better.

Spend money on the right products.

Use powerful analytics to make smarter decisions.
"I decided to go with Smartwerks software, and it has proven to be a great decision. It is easy to train new employees, and I love the way it keeps track of my inventory. The staff is very helpful and accommodating."
Kim, Kim's Fine Jewelry, Summerville, SC
No pressure. No commitments.