Run an Outstanding
Patio & Hearth Store.
Smartwerks Patio Store POS System
Improve the key areas of your company.
With Smartwerks, you'll shorten your to-do list and concentrate on actions that lead directly to company growth.
BRING IN MORE CUSTOMERS
With Smartwerks Rewards, bring in new business and reward loyal customers all at once. With a built-in customer directory and purchase history, consistently provide value to existing customers and turn them into raving fans.
SPEND LESS ON YOUR PRODUCTS
Start buying the right amount of the right products. With accurate information on what is selling and what is not, along with the ROI you're getting on each item, eliminate products just sitting on shelves collecting dust–and costing you money.
KNOW YOUR BEST EMPLOYEES
Too much time and money is spent on employees who are a bad fit. Know who your top performers are and identify the ones who are struggling. Track all employee activity and control the parts of the software they can access.
All of the tools you could possibly need.
Smartwerks is a cloud-based system that has everything you need to run a better patio business.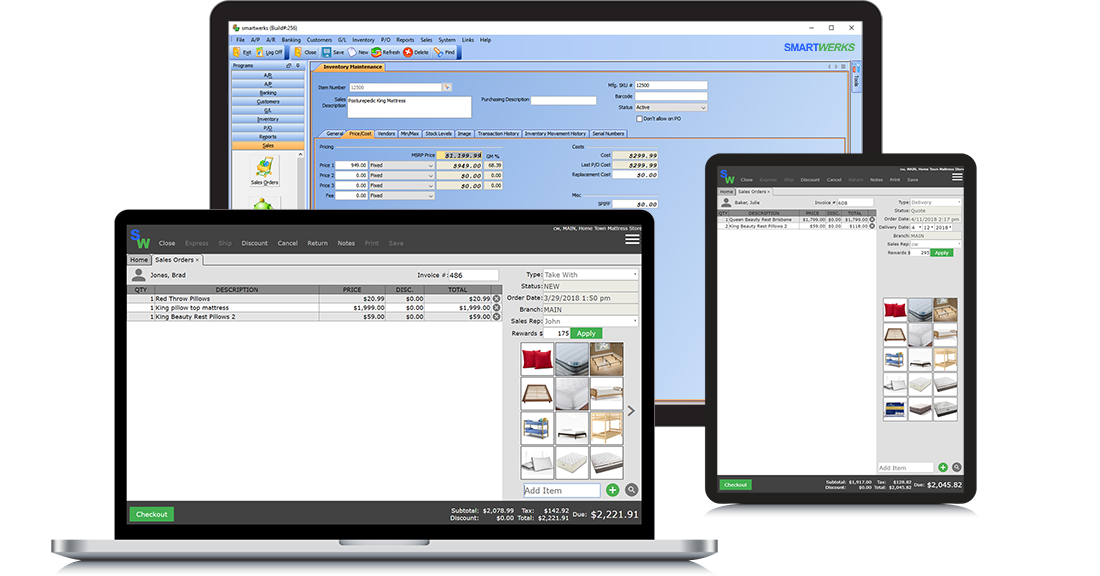 Customer Deposits & Layaway
Full Accounting App (optional)
"Smartwerks has been a great tool for my company during this time of growth. We have expanded from one mattress store to four, with a fifth opening in a couple of months. Smartwerks has allowed me to control my inventory cost and levels at every store during this exciting yet difficult time. I don't think I would have been able to manage this expansion without the help of Smartwerks."
Mike Conner, America's Mattress Owner, Pensacola, FL
Your complete patio store POS solution.
PROCESS SALES FASTER
With Mobile POS, free yourself from the counter and take the transation to the sales floor. Finish sales faster, eliminating the long lines that annoy your customers.
MANAGE DELIVERIES BETTER
Start the transaction in your store and complete it at the customer's residence. Take a deposit or if necessary, offer a layaway option.
MAKE SMARTER DECISIONS
Smartwerks reporting tools help you keep track of all aspects of your business. Instead of just guessing, start making business decisions based on solid data.
RUN MULTIPLE LOCATIONS
No matter the size of your company or the number of stores, Smartwerks can help you control and improve your business.
ACCESS FROM ANYWHERE
Since Smartwerks patio & hearth store POS is cloud-based, you can focus on your business while we take care of the technical stuff.
SAVE VALUABLE TIME
Smartwerks takes care of many of the routine, day-to-day tasks that drain your energy and waste so much of your time.
Take your business
to the next level.
Discover how to charge past the competition and
make every aspect of your business better.